Services for Clients
The Job Centre will work with you to develop a suitable job goal, and help you access a wide variety opportunities with great employers. Due to this, we have a placement success rate of over 90%! Throughout the job search, individualized and one-on-one guidance is provided which focuses on meeting your employment goals. In addition, job coaching support can be put in place to assist you on the job and to maximize your career potential.

We come to you! We are one of the only service providers who will travel to meet with you at a convenient location close to your home, saving you time and travel expenses.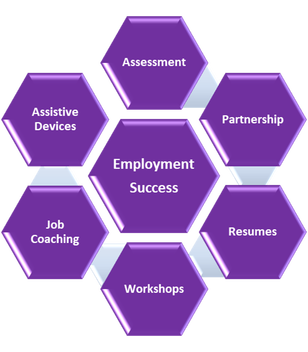 What We Do:
Assist in completing ODSP Employment Supports Applications
Active job development & job retention services
Assist with resume, cover letter and reference preparation
Complete a personalized employment plan
Support on the job training & coaching
Coordinate and fund Interpreter services
Provide funding for disability related employment supports and devices
Contribute to work clothing, uniforms, equipment, safety shoes, etc.
Ongoing case management and support for up to 3 years
Help create self-employment feasibility plans
Assist with transportation costs for interviews & workshops
---
​Links and Resources for Job Seekers