Information for Employers
WHY YOUR BUSINESS SHOULD HIRE THROUGH US......

The Job Centre has been successfully matching qualified candidates to employer job openings for 20 years.

​During this time we have earned excellent reputation and confidence of the community as a provider of high-quality employment and self employment services to people with disabilities.

We help companies by providing pre-screened, high quality, competent candidates to fill their employment needs.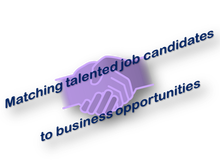 WHAT IS IN IT FOR YOU?
Absolutely no cost to an employer
Wages can be subsidized (amount to be determined)
Onsite job coaching provided
On the job training free of charge
Interpreter services are fully funded if required
Any needed assistive devices and accommodations are 100% paid for
If any paperwork needs to be done we do it for you
Using a personalized approach, we assist clients and employers achieve employment goals
---